Profit Fountain was launched in 2018 by Chris Steele. Profit Fountain offers an easy and affordable Copywriting service for Australian business.
Introducing Chris
Chris Steele is a talented Copywriter who will improve all of your communication pieces for truly powerful results.
Chris brings a highly developed commercial sense.
This stems from all of the relevant roles he has undertaken until now, which have each had a sense of commercial "immediacy" about them.
Most importantly, Chris offers a special talent in uncovering the true marketing message of your business, which forms a solid foundation to build truly effective advertising.
As you might imagine, Chris has created copy for all kinds of advertising, over several years, including for advertorials and press releases, as well as brochures, press ads and related collateral; and direct marketing communications and websites. Not to mention scores of TV ads… and thousands of radio ads.
One more thing – Chris enjoys dealing with highly complex or technical issues. He says: "It's always an interesting challenge to gather such information and transform it into a message that is powerful, digestible and persuasive."
Background
Born in Adelaide, Chris started work part-time, selling newspapers on a street corner at just 14…
Next, at 15, Chris was washing butcher display trays; then later, flipping burgers at McDonalds. After that, he worked as a waiter in a couple of very fancy restaurants before joining the navy at age 17. Following on, Chris had stints as a Motorcycle courier, a door-to-door Video Machine salesman, he then worked as a Liquor Retailer and as an Electronics Retailer. During the tough, recession years Chris managed to scrape up some work in a couple of factories.
After all those adventures, Chris finally found his way into Advertising, starting with Ad Sales at Adelaide's "The News". That's where Chris found he could write original, effective copy and his love for the art grew. Chris was inspired to get a tertiary qualification as a Copywriter and he soon found himself working for a TV Station, then at Radio Stations all over the country. While working in Sydney Radio Station WS-FM, he entered the National Radio Awards and got 2nd Prize in the category of best radio ad.
After Radio, Chris worked in an Ad Agency; and later started his own Ad Agency.
In his spare time, Chris became a Marriage Celebrant (which was only supposed to be a part time thing) but Chris's Marriage Celebrant business exploded in popularity (since he knew how to promote himself!) and it took over entirely, to the point where he had no time left, to run his ad agency.
Now, at last, Chris has fully tamed and automated his Wedding Celebrant business which leaves him with spare time once again.
So now, Chris is happy to make himself available, as a Copywriter.
Chris will be very happy to help you to achieve more in business with his effective copywriting.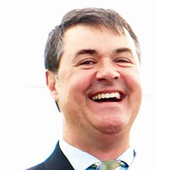 Chris Steele,
Copywriter
Managing Director, Profit Fountain